Office Administrator:
 Traci: Traci, our Office Administrator, holds a bachelor's degree in Early Childhood Education and Psychology from Plymouth State College.  She has devoted more than twenty years to the field of early care and education, and she has been with Applewood since 2007.  Her experience includes directing the USDA Child and Adult Food Program, teaching child development to high school students, directing a preschool program, providing family child care, and teaching all ages from infancy through kindergarten.   Traci's NH Credentials include Early Childhood Master Teacher Level 2, Early Childhood Administrator Level 1 and Early Childhood Master Professional with endorsements as a Workshop Trainer, Individual Mentor and Program Consultant.
Infant & Toddler Teachers:
Melissa: Melissa has been employed at Applewood since June, 2004, having worked as Head Teacher in our Toddler room, and now in our Infant room. She received her bachelor's degree from Keene State College in Early Childhood, Elementary Education and specializing in Developmental Psychology. Melissa values her career as an Early Childhood educator a great deal.  She loves to give children the foundation and tools needed in their journey in learning. Melissa especially enjoys working with the classroom environment.  She takes pleasure in creating a comfortable, warm and "homey" feel that allows the children to feel relaxed so they can enjoy and learn in a peaceful environment. She especially enjoys the infant and toddler ages. They are inquisitive, curious and always wanting to learn new things. Melissa is a native to Londonderry and now resides in Londonderry with her husband Jay and two children Alex and John. Melissa holds a NH Credential of Early Childhood Master Teacher Level 2.
Kaz:  Kaz holds an associate's degree in Early Childhood Education.  She has worked with high risk children at home as a foster parent and an educational surrogate parent.  Since she attended a workshop to learn about Dr. Emmi Pikler's study on baby's natural way of development, she has been trying to incorporate it into our classroom.  She is passionate about infant development and enjoys watching infants become unique individuals.  Kaz holds a Master Teacher Level 1 NH Credential.
Matt:  Matt Rosenberg has been working at Applewood since the spring of 2008.  Matt has been a teacher in our Infant Room, Toddler Room and Pre-K Room.  Matt holds a Master's degree in Early Childhood Education, as well as one in literature, and he has lived and worked in Chicago, Japan…and Manchester.  Matt will be happy to demonstrate his ukulele skills for you upon request…or even prior to request; he is just that accommodating. Matt holds a NH Credential of Early Childhood Master Teacher Level 3.
Ashley:  Ashley has been employed at Applewood since May of 2014. She has been a part of Applewood since she began student teaching in the infant classroom in September of 2013. Ashley received an Associate's Degree in Early Childhood Education from NHTI in the fall of 2014. While studying at NHTI she learned the importance of a play-based curriculum which she was able to put into practice while completing observations with infants and toddlers at the Child and Family Development Center during 2012-2013. Prior to NHTI, Ashley was enrolled in the Careers in Education program at Manchester School of Technology where she developed invitations for preschool children. She greatly enjoys working with children because, she says, "I am able to foster the development of children and share the excitement with the children and their families."  When not working, Ashley enjoys spending time traveling with her boyfriend and spending time with her family.
Preschool Teachers:
Debbie: Debbie started teaching at The Applewood Learning Center in October of 1996. One of Debbie's passions is watching children learn to understand their world through language and literature.  Helping children develop new skills, gain knowledge and cultivate an appreciation of learning is what Debbie finds most rewarding.  Debbie holds a master's degree in Reading and Language from the University of Lowell which is now UMass Lowell.  She also holds a Bachelor's degree from Salem State College in Elementary Education.  Debbie recently attended workshops on  Kindergarten Readiness and Transitions in the Childcare Program.   She has received a Henry and Gwen Morgan Award for demonstrating her commitment to her professional development by participating in the NH Professional Development System for ten years.  She has been nominated for a Guiding Star Award at the NH Child Development Bureau.  Debbie holds a NH Credential of Early Childhood Master Teacher Level 3.
Ashley: Ashley has been a teacher at Applewood since 1999. She has received her associate'sdegree in Early Childhood Education from New Hampshire Community College in Manchester. She is currently pursuing her Bachelor's degree in ECE from Granite State College. Ashley attended several workshops over the last year. At the NAEYC- Massachusetts Conference, Ashley attended some workshops that focused on Creativity and Coping. One idea that she brought back to the Preschool classroom and has used with the many of the children as well as during group time is to "smell a flower: breathe in" and "blow a bubble: breathe out." This technique has helped many of the children to refocus as well as to calm themselves down if upset. Ashley holds a NH Credential of Early Childhood Master Teacher Level 1.
Danielle:  Danielle graduated from Colby-Sawyer College in May of 2015 with a Bachelor of Science Degree in Child Development and a minor in Health Studies. She is currently working towards her Master's degree in Early Childhood Education from Southern New Hampshire University.  Danielle began her career at the age of sixteen working in childcare and being a teacher's aide for preschool and kindergarten classrooms. In her recent endeavors, Danielle was a kindergarten long-term substitute teacher, and fell in love with teaching young children.  She has always been passionate about supporting and observing children as they discover the world around them.  In her free time, she enjoys spending time with her family, teaching Zumba, exercising, painting and trying new restaurants.   Danielle holds a NH Credential of Early Childhood Teacher Level 6.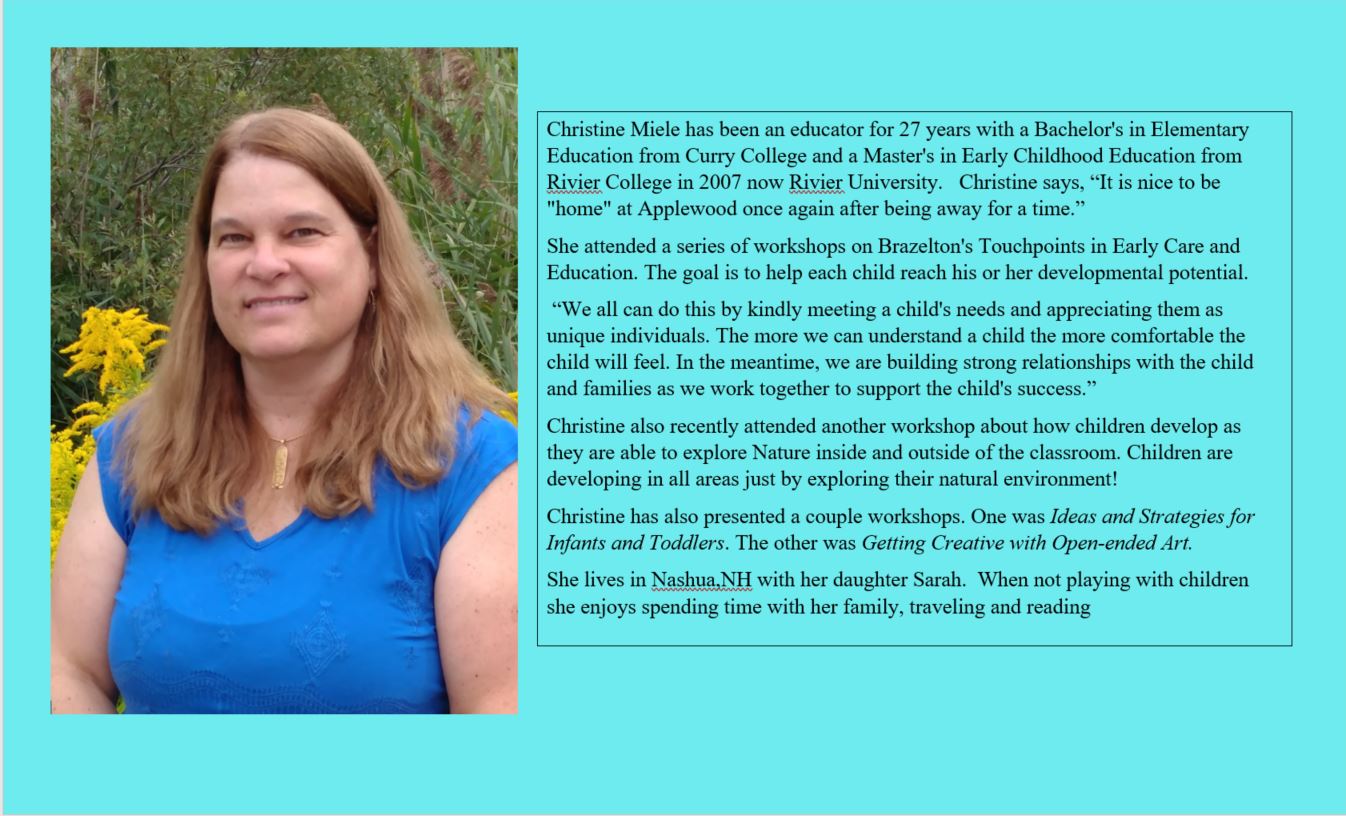 Support Teachers: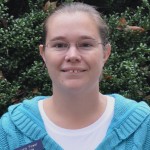 Laura:  Laura graduated from Wheelock College in Boston in 2008 with a bachelor's degree in Early Childhood Education.  Laura joined Applewood in September 2010 as a Support Teacher. She has a true passion for working with preschool children. She is currently working with the Manchester Head Start program as a preschool teacher. She attends many workshops and seminars throughout the year to help further her knowledge in early childhood education. The last workshop that she attended was a series of webinars on early language and literacy development. When not working, Laura truly loves scrapbooking and reading. Laura holds a NH Credential of Early Childhood Master Teacher Level 2.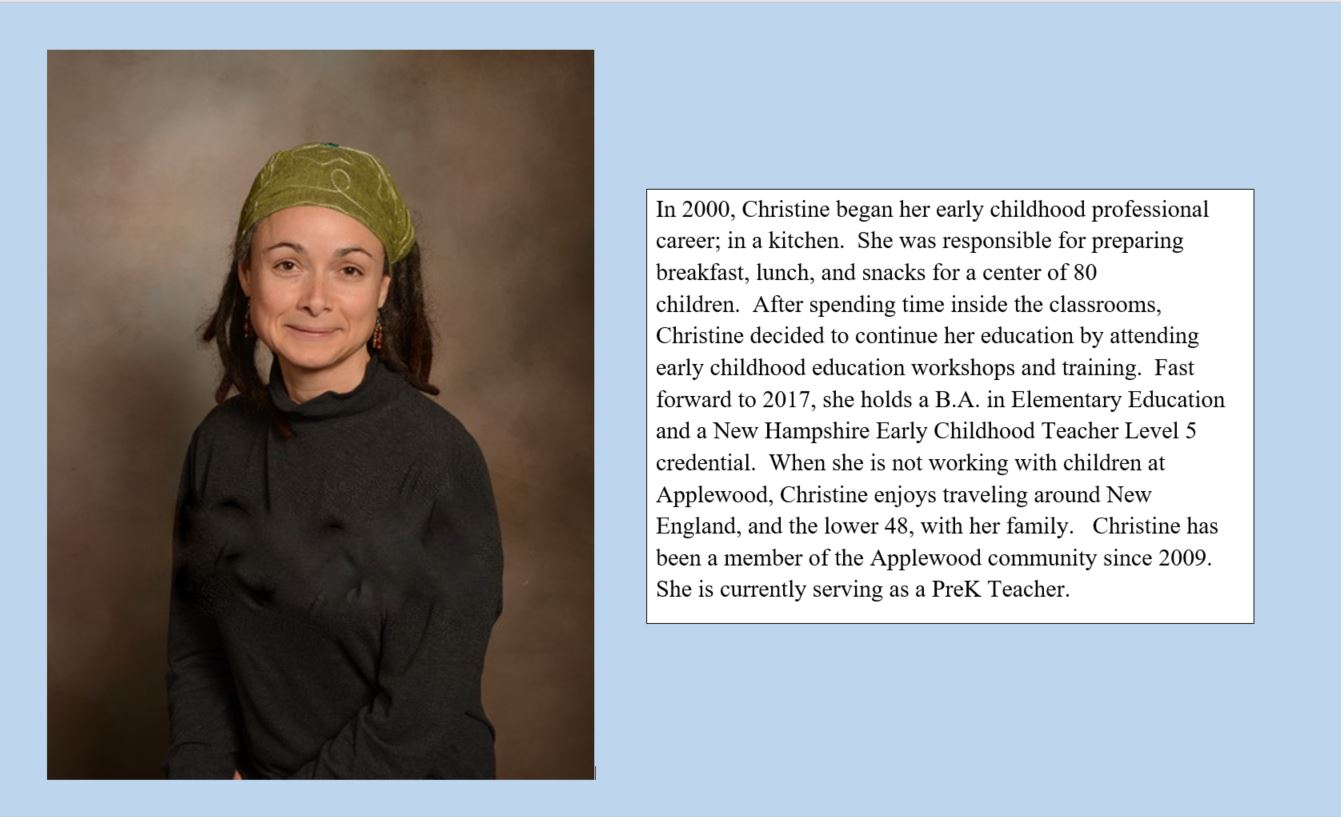 Teacher Assistants:  
Elaine: Elaine has been at Applewood since 2001. She previously worked with children and families for twenty years through the Head Start program. Elaine obtained a CDA credential as well as attended and participated in numerous workshops and conferences to to enhance knowledge of early care and education. Her philosophy is to offer children opportunities to socialize, grow, and learn in a safe and healthy environment.  When Elaine is not at Applewood she enjoys spending time with her family and five grandchildren.