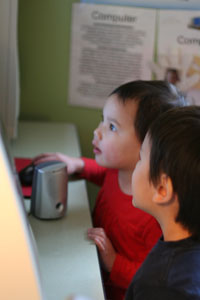 Resources for All:
Child Care Aware New Hampshire www.nh.childcareaware.org
NH Affiliate of NAEYC www.nhaeyc.org
NAEYC www.naeyc.org
NH Bureau of Child Care Licensing (Check out the NEW LICENSING REGULATIONS published in 2009!!)
La Leche League International  Their Mission is to help mothers worldwide to breastfeed through mother-to-mother support, encouragement, information, and education, and to promote a better understanding of breastfeeding as an important element in the healthy development of the baby and mother.
Brain Insights:  Early Childhood Brain Insights offers information on the importance of brain development in the early years and how easy it is to provide for your children.
Center on Media and Child Health:  The Center on Media and Child Health at Children's Hospital Boston, is dedicated to understanding and responding to the effects of media on the physical, mental, and social health of children through research, production, and education.
Zero to Three: Zero To Three is a national nonprofit, multidisciplinary organization that supports the healthy development and well-being of infants, toddlers and their families. We carry out that mission through a range of activities that inform, educate and support the adults who influence very young children's lives.
From Baby to Big Kid
Register here to receive ZERO TO THREE's newest resource for parents-From Baby to Big Kid. This parent e-newsletter offers science-based information on how children learn and grow each month from birth to age 3. The monthly e-newsletters include:
Age-based information about child development
In-depth articles on common child-rearing issues and challenges
Parent-child play activities that promote bonding and learning
Frequently asked questions
Research on child development and what it means for parents
"Cradle Crier" and "Toddler Tales"
The NH Cooperative Extension produces these FREE wonderful month-by-month developmental newsletters called "Cradle Crier" and "Toddler Tales" designed to help new parents understand and interact with their children with a positive, strength-based approach. They are available free of charge by US Mail or email to you and your families. Simple, practical advice on the basics of child development and parenting in today's complex world! This link goes directly to the page with the Cradle Cries/Toddler Tales library…
Click HERE to find out more about how UNH Cooperative Extension provides research and evidence-based family life education and support to families throughout the State of New Hampshire. Our county and state based parenting and family expert team members provide direct educational programming as well as support to other programs and agencies who are working to make New Hampshire a great environment for families.
Mother & Child Clothing and Gifts In addition to new and consigned clothes for babies, children, teens and moms-to-be, Mother and Child is your source for breast feeding and cloth diapering supplies!  They believe taking care of the planet and each other should be fun, easy and rewarding. They believe in recycling what we can and offering their customers the best selection of natural products made by people paid fair wages for their work. That's why they carry retail, closeouts and consignment clothing as well as fair trade and organic clothing and accessories. They believe when you shop with them, you can feel good about taking eco-conscious steps to get what you need because you're also giving back.
Just for Teachers:
Child Care Education Institute
Distance Training and Education Courses for Early Childhood Professionals.
Comprehensive Professional Development Courses, CDA, Certificate Programs, 100% Online and Internet Accessible.
Affordable, user-friendly programs to help you achieve your Professional Development Hours!
http://www.cceionline.com/
Child Care Exchange & Exchange Everyday
ExchangeEveryDay is the official electronic newsletter for ChildCareExchange.com. It will be delivered to you five days a week bringing to you news stories, success stories, solutions, trend reports, and much more. And, knowing how busy your every day is, each report will be short and to the point. Sign up here for your FREE Newsletter!