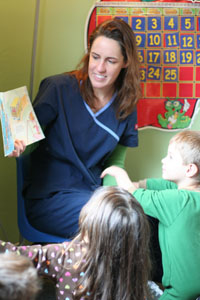 Community:
Building a community is a core value of Applewood. Family involvement is an integral part of our success. It is through a strong staff-family partnership that we are best able to meet our responsibilities to our children. Working together, we can create extraordinary learning experiences for our children. Please read on about our committees and outreach opportunities.
Committees:
Applewood functions with the help of several committees made up of parent volunteers and Board liaisons. It is through these committees that Applewood is able to leverage a wealth of knowledge and creativity, at the same time that parents are able to participate in maintaining Applewood as the best early learning environment for their young children. Committees can vary from year to year, depending upon the needs of the center. Examples of the committees and their responsibilities are as follows:
Compensation: This committee works to find creative and alternative methods for compensating and rewarding our hard working teachers and staff. To read our Position Statement on Compensating Early Childhood Educators, click here.
Community/Fundraising: This committee will help Applewood develop and strengthen relationships both within the center and in the greater community. We'll work to gain businesses as community partners and to bring the Applewood families closer together. We will redirect our fundraising efforts to be more efficient and we'll help Applewood to become an active participant in the Londonderry community.