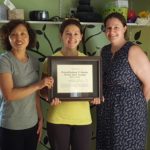 At Applewood, we help each young child get a strong foundation for learning and growth by responding to their individual needs and interests.
The professional staff at Applewood has many years of experience in early childhood development as well as backgrounds in music, art and education. Our teachers hold Associate's degrees or higher (including some Master's). We offer low teacher-child ratios in an atmosphere that encourages and supports a caring community of learners. All teachers possess credentials from the State of New Hampshire, Department of Health and Human Services Child Development Bureau.
Our staff is comprised of a Director, Office Administrator, Bookkeeper, Head Teachers, Teachers, and Teacher Assistants.
The Director must possess a Bachelor's Degree in Early Childhood Education and must have several years of experience with young children and families. Course work in Administration is also required.
The Office Administrator must possess a Bachelor's degree in ECE with experience in administration.
The Bookkeeper must possess an Associate's degree in business or finance and must have several years of experience in finance.
The Head Teachers must possess Bachelor's Degrees in Early Childhood Education or a related field and must have a minimum of 3 years of experience.
The Teachers must possess Associate Degrees in Early Childhood Education and must have experience with young children.
The Teacher Assistants must have a strong desire to work with young children coupled with experience in the field. Enrollment in ECE coursework is preferred.
The Applewood Learning Center prides itself on the high quality programs it provides to the children and families it serves. Applewood recognizes that the foundation upon which these programs grow is our staff. As such, Applewood has a vested interest in attracting and retaining the most highly qualified and dedicated staff.
A Board of Directors, comprised of parent volunteers, a teacher representative and the Educational Director, is the elected governing body for The Applewood Learning Center. The Board is responsible for setting policy, overseeing the administration of the center and monitoring its finances.