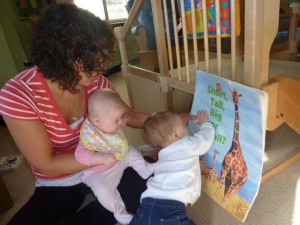 The Applewood Learning Center prides itself in the high quality programs it provides to the children and families it serves. Applewood recognizes that the foundation upon which these programs grow is the staff. As such, Applewood has a vested interest in attracting and retaining the most highly qualified and dedicated staff.  As it is Applewood's goal to attract, develop and retain outstanding educators, compensation is based on performance and mastery. All compensation packages are built to reflect this philosophy.  We are currently hiring for:
Infant/Toddler Teacher:  Full time (40 hrs/week) position working with children from 6 weeks through three years.  Associate's degree in ECE or a related field is required along with a high level of professionalism, a positive attitude and flexibility.  Knowledge of DAP is a must.  Must demonstrate warmth, understanding of young children and families and enthusiasm for hard work.  Bachelor's degree, experience with emergent curriculum and experience in an infant or toddler setting are all preferred.  Willingness to respect and work with families with differing values, socioeconomic and cultural backgrounds.  Ability to show imagination, skill and creativity in teacher-child interactions, an open and professional attitude and a sense of humor are attributes candidates must have.  Commitment to on-going professional development is required.  
Must have or be willing to obtain NH Early Childhood Credential –Teacher.
Federal and State Criminal Background Investigation and NH Child Care Licensing Orientation are required.
Benefits include: Paid Time Off, Health, Life, Short-Term Disability, AD&D, and Supplemental Insurance, 401K, Paid Planning Time, Professional Development and ELNH & NAEYC membership.
Position available immediately.
Pay range:  Commensurate with experience and education.
To Apply: Please send cover letter and resume to Libby Brunette, l.brunette@applewoodlc.org or
2 Hampton Dr., Londonderry, NH 03053.
Part Time Teacher Assistants.  This can be a great fit for college students, high school students, or those looking for flexible, part-time hours.   Positions available immediately. Please send your resume and cover letter to l.brunette@applewoodlc.org.
Substitute Teachers– On an as needed basis working with all age groups from 6 weeks – 12 years old. 12 credits in ECE and experience with young children are required. Positions available immediately. Please send your resume and cover letter to l.brunette@applewoodlc.org.
The Applewood Learning Center is an Equal Opportunity Employer.  The Applewood Learning Center does not discriminate on the basis of gender, race, religion, national origin, marital status, sexual orientation, citizenship status, veteran status, handicap status or age.  Employment is at will. Please contact us for more information.