var _gaq = _gaq || []; _gaq.push(['_setAccount', 'UA-36316603-1']); _gaq.push(['_trackPageview']);
(function() { var ga = document.createElement('script'); ga.type = 'text/javascript'; ga.async = true; ga.src = ('https:' == document.location.protocol ? 'https://ssl' : 'http://www') + '.google-analytics.com/ga.js'; var s = document.getElementsByTagName('script')[0]; s.parentNode.insertBefore(ga, s); })();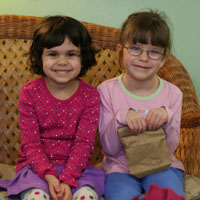 In 1989, a group of families worked together to launch what was an unfamiliar model of early care and education in NH.  We had come together after the abrupt closing of one of the few full day childcare programs in the Derry-Londonderry area.  Devastated that we had few options for our children, we decided to enter into partnership to open a full day, high quality, non-profit early care and education program for young children.
Partnership was the key.  We were not looking merely for parent involvement; we were looking for parent-teacher partnership, an entirely different concept.  An Educational Director would be responsible for the day-to-day operations of the program but the Board of Directors would be responsible for guiding Applewood in its mission and the Board would be composed solely of Applewood parents.
From Day One, we were told that Applewood would never succeed with parents playing a primary role in the organization.  We disagreed.  We knew we had one commonality that was significant: wanting the best for all of our young children.  And coming from very diverse professional backgrounds strengthened us, as each founding member of Applewood brought a unique skill and talent that laid the foundation for our fledgling organization.
The first layer of our foundation, though, was based on trust, communication, and belief in community.  We were not looking for teachers who felt their education superseded a parent's understanding of his child. We were not looking for parents to bring in snack, repair books, wash paint smocks (though we certainly needed all of that and more).  We were looking for teachers and parents who together would build our community.  And what a community we built!
The Applewood community strongly supports well-educated teachers; it respectfully supports parents in their roles as their child's first teacher; it supports each child in his individual growth; and it supports each person, both child and adult, as a life-long learner and a contributing member of Applewood.  In the end, Applewood is a community that believes it takes all of us working together to make a difference in the lives of all of our children.
Susan Gimilaro
Founding Family and First Educational Director