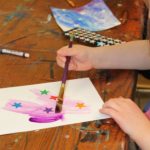 Here at Applewood, we understand that choosing a child care provider is one of the most important decisions you will make for your child.  We'd like to help make that decision a little easier for you, and we do that by offering high quality care, with professional and nurturing staff in a safe, secure environment with a comfortable, home-like feel.
We'd like to guide you through our enrollment process so that you'll know what to expect.
Explore our Website
Here you will find valuable information about our programs, teaching staff, philosophy, mission, and more.
Inquire about Availability
First, you'll want to compare your family's needs to our current openings and determine if we have space available to meet your specific schedule. Our Current Openings are updated regularly and give you a good idea of what is available and when.
If you are looking for immediate care, please be aware that our enrollment process is designed to offer children and families a gradual transition into the program as we have found that this approach is best for children.
Schedule a Visit
After reviewing the information on our website and checking our availability to see if we can meet your needs, simply complete Inquiry Form below and within a few days we will contact you to arrange a convenient time for you to come in, with or without your child, to tour the facility, meet our staff and observe in the appropriate classroom.  You'll meet the Head Teacher, who will discuss curriculum, routines, your child's individual needs, and the day-to-day events of the classroom.  He or she can answer any questions you have about the classroom, and will provide you with written materials that discuss the program in more detail.  After you visit in the classroom, an administrator will sit with you to discuss your visit and answer any additional questions that you might have regarding our programs and policies.  This is a great time for us to learn a bit more about your family and your child.
We encourage multiple visits in order for you to observe, ask questions, and get an overall feel as to whether or not you think the Applewood community would be a comfortable fit for your family.
Tours generally last anywhere from 30 minutes to 90 minutes.
Please understand that in order to respect your time and to honor our commitment to the children and families already in our care, we only schedule visits for prospective families when we have a foreseeable opening that meets their needs.
Please complete this INQUIRY FORM so we can contact you about scheduling your visit!
Enrolling at Applewood
Once you've decided that Applewood is the right place for your family, we'll begin the enrollment procedure.  We'll decide on your scheduled days and hours, and choose a start date.  You'll complete some initial paperwork, pay a $100 Registration Fee and secure your child's space with a two-week deposit.  An enrollment packet with additional forms will be sent home for you to complete.  All enrollment forms are due back at least two-weeks prior to your child's start date.  Now's the time to call your child's pediatrician for a current copy of their latest Health Exam and Immunization Records!
A Gradual Transition
Next, we'll work with you to plan a gradual transition where you and your child visit together several times prior to their start date, gradually increasing the length of your stay.   We also coordinate a meeting with your family, your child's teacher and the Director.  This allows families and children to become more comfortable with the new surroundings, teachers, classmates and routines.   The timing for your child's start date would typically about three weeks from the date of your deposit.  The minimum is two weeks.  Families who are planning ahead can reserve a spot several months in advance, and in this case the transition into the program would happen in the weeks leading up to the child's start date.
Quality Indicators to Look For
Below are some tips that you may want to keep in mind whether you are visiting Applewood or another program.  We've also provided a Printable Checklist for you to use in making your child care decision.
Visit a number of programs … stay as long as you can!
Visit the programs you like multiple times
Consider making your first visit without your child … this allows you to decide if the program would meet your child's needs and if the philosophy supports your family's wishes and desires.
Observe the interactions between caregivers and children, and among the children.  Can you sense a mutual respect?  Are the children content?  Engaged?  Having their needs met?
Is the environment clean and comfortable?  Will your child feel comfortable here?
Ask lots of questions

What are the qualifications and experience of the teaching staff and the administration?
How long have the teachers been with this program?
Which teachers hold current certifications in First Aid, CPR and Water Safety?
Can they provide you with references from current or former families?
How does the teaching staff individualize care to meet your child's needs?
Does the teaching staff keep track of your child's progress and development?
Are parent-teacher conferences held?  How often?
How are families involved at the center?
How do staff communicate with families?  Daily notes, newsletters, emails?
What are the staff to child ratios?  What are the ratios at naptime?
Is there a Family Handbook available for your perusal?
What happens if your child becomes ill while at school?
How and when would your child transition into the next age classroom?
Write down any questions that arise during your tour.
The Applewood Learning Center does not discriminate on the basis of gender, race, religion, national origin, marital status, sexual orientation, citizenship status, veteran status, handicap status or age.  Please contact us for more information.