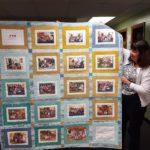 The relationships between the teachers and families working together to help their child develop, learn and grow.
There is a sense of community at Applewood that is difficult to find at other schools.
Families and staff show a sense of support to each other as life brings us all challenges.
I like how Applewood is so welcoming to parents; they are made to feel comfortable and are encouraged to become involved.
The Open Door Policy that ALC lives by allows parents to observe in the classroom, stop by for a visit unannounced or view their child at the center through the observation windows.
There is a sense of longevity at the center as far as the staff and families. Also it is special to me that everybody knows everybody at Applewood, children, families, and staff alike.
Applewood is special to me because it allows me the extra planning time to be the kind of teacher that I want to be. Each teacher is allotted 2.5 hours of planning time as well as an hour of assessment to record observations of the children in our care. Head teachers are also given an hour each week for reflection. This time allows us to provide a quality program for the children as well as their families.
So many families are involved and have relationships outside of Applewood.
Applewood offers activities in addition to regular classroom activities, such as Music with Matt and indoor gross motor activities.  Some centers charge extra for such activities.
Children are not shifted to many different classrooms during the day and parents are able to communicate with their childs classroom teachers at pickup.
Support for professional development of teachers, including in-house workshops.
Support from other classroom teachers.
Applewood promotes self esteem and friendships that will follow families and children well beyond their years spent here at Applewood.
In addition to having worked at Applewood for a number of years, I had the opportunity to watch my own child create friendships that have lasted well beyond her first 6 years of childhood.
Applewood has always created a warm and friendly environment that allows both families and staff to feel welcome and valued. Since beginning my career as an Early Childhood Educator it has become difficult to picture myself anywhere else.
Professionalism!
The teachers are highly qualified, professional, respectful individuals.
The teachers give quality care with respect and open communication and relationships with families.
The teachers are respected by the Administration, and are given the time they need each week to complete professional tasks such as portfolios, planning and meeting with their team each week. The result is teachers that are energized, happy and ready to put everything they have into the care of the children.
I think Applewood is very special in so many ways: the community is a big part of it; the professionalism of teachers, the school-like program for children.
The Open Door policy is great ~ parents love it and the teachers encourage it all the time.
The continuity of work at Applewood for so many teachers.