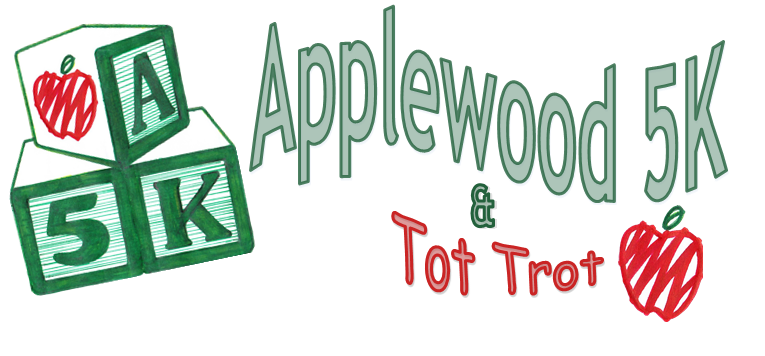 Pre-race children's concert featuring Steve Blunt!
Saturday April 27th 2019
Registration Opens 9:00am
Kids' Concert 9:00am
Tot Trot 9:45am
Anthem and 5K Start 10:00am
Rain or Shine
Online Registration opens Jan 1st 2019!
Check out our new and improved all
paved course! Strollers now welcome!
Applewood is the only self-sustaining non-profit childcare center in the Derry/Londonderry area and this 5K will serve as its primary fundraising event. Applewood has provided high quality early childhood childcare and education to our community for over 25 years. Overseen by a Board of Directors that is comprised of parents, the director, and a teacher representative, Applewood is founded on a strong family-school partnership. Our community supports well-educated teachers, supports parents in their roles as their child's first teacher, supports each child in their individual growth, and supports each person, both child and adult, as a life-long learner.
Applewood is a community that believes it takes all of us working together to make a difference in the lives of our children. We have created the Applewood 5K in an effort to bring together members of our larger community in support of Applewood's core mission and values. Funds raised through the Applewood 5K and Tot Trot will be put directly toward teacher continuing education and much needed improvements to our building.
Click on the above links to register for the 5K, make a donation, or become a race sponsor. If you have any questions, please email applewood5k@gmail.com.
We cannot wait to see you at the race!
F.A.Q.
How do we register for the 5K?
Race registration is being managed by Millennium Running and all 5K and Tot Trot entrants can register by going to their website or by clicking the "Register Now" link above.
What ages can participate in the 5K race?
Anyone  can participate in the 5K. Minors (under age 18) will require permission from their parent or legal guardian, and this can be provided electronically by the parent/guardian when registering their minor through the Millennium Running website. Anyone who is under the age of 12 must run the 5K with an adult and cannot be unaccompanied at any time during the race.
When does registration close? Can I register onsite the day of the event?
Yes, you may; however, registration will be $30 rather than $25. Registration through Millennium Running closes on Friday April 26 at 12:00 noon.
What is the course?
The course is all paved and mostly on the Londonderry school grounds.  Click HERE to see the course profile.
Can I push a stroller or a jogger during the race?
Yes.  The course is all paved and stroller/jogger friendly.  To ensure everyone's safety, please start at the back of the field and yield to oncoming runners.
Can we race as a team?
Of course! We welcome teams to participate, although there will not be team-focused awards. All team members should register individually through Millennium Running.
Will there be race prizes?
Yes. All registrants who register by April 12th will receive an Applewood 5K t-shirt in their desired size. There will be a limited number of shirts available to those who register after this date – first come first serve. In addition to the race shirts, there will be medals and/or race prizes for top finishers.
How will the Tot Trot work? What ages can participate in the Tot Trot?
The Tot Trot is for children ages 1-10. It will be a short "sprint" and be run in age groups. Cost of the Tot Trot is $10 and entrants registered before April 12th will receive a race t-shirt. Tot Trot participants can be registered by clicking the above "Register for the Tot Trot!" link. Registration will be available onsite the day of the race; however, there will be limited t-shirt availability for those who do not register by April 12th.
Will there be any other activities at the event?
In addition to the 5K and Tot Trot, there will be a free concert by Steve Blunt and a raffle with fabulous prizes!! Children can also enjoy the Moose Hill playground.
Where do we park? Where do we go when we arrive?
There is ample parking in the Moose Hill School parking lot. When you arrive, please go to the registration tables located in the back field next to the playground.  For over flow parking, Orchard Christian Fellowship generously offered us to use their parking lot, which is located at 136 Pillsbury Rd.
How do I donate or become a race sponsor?
You may donate or sponsor by clicking the above "Make a Donation" or "Become a Race Sponsor" links. Only those who fill out the sponsorship form will be listed as sponsors on the advertising materials, including t-shirts. Sponsors can pay by check or PayPal. If you would like to make an in kind donation of a raffle prize or other goods, please complete and return the sponsor application with a description of your donation, or contact us at applewood5k@gmail.com should you have any questions.
Are donations tax deductible?
Yes! Applewood Learning Center is a 501(c)3 tax-exempt nonprofit organization, so all monetary donations are tax deductible. You must submit the sponsor/donor form in order to receive a donation thank you letter for tax purposes.