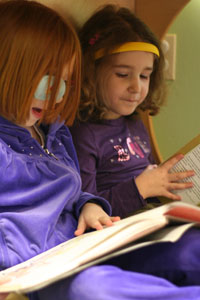 Applewood not only makes the lives of the children enrolled here better, but strives to make other's lives better as well. We make a conscientious effort to conduct continued outreach to the community. This not only betters the community, but it teaches the children enrolled in the center tolerance and generosity.
Food Drive for the Sonshine Soup Kitchen – We hold this food drive annually to benefit the Sonshine Soup Kitchen of Derry, NH. Children and families of the center are encouraged to donate non-perishable items to the drive. Applewood collects the food and donates it to the soup kitchen.

Mitten Tree for Helping Hands – Every Holiday season we put up a tree in our foyer and ask families to place a pair of mittens on the tree. This collection then goes to the Helping Hands Outreach Center in Manchester, NH where the mittens are dispersed to under-privileged children in the area.