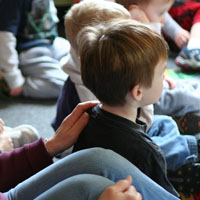 (3 years through 5 years)
At Applewood, we believe that children learn best through their own natural investigations of the world around them.  As such, we create curriculum that is based on children's own interests making their learning exciting and meaningful.  There are basic learning centers in the Preschool that are augmented with additional centers and some teacher directed activities.  The learning centers include:
Dramatic Play – where children can relive life experiences, interact with others, develop problem solving skills and learn about themselves, their families, their peers and the society around them.
Block Area – where children learn the concepts of length, height, weight and area.  They can also classify and sort objects by size and shape.  Pre-reading skills emerge as children describe and discuss the building process.
Manipulative Toys – where children learn to sort and match objects by attributes, to sequence and classify and to gain an understanding of number concepts.  They also develop fine motor skills, eye-hand coordination, visual discrimination and refinement of tactile sensing.
Creative Arts – where children learn to experiment with color, shape and texture while learning cause and effect, aesthetic development, problem solving, planning, labeling and writing.
Sand & Water – where children learn to play cooperatively, to compare and contrast, cause and effect, problem solving skills and enhancing creativity.
Book Area – where children learn to value the written word, increase their vocabulary, predict events, understand sequence and develop their own storytelling abilities.
Music & Movement – where children learn to develop skills for positive interactions, express emotions, learn musical concepts, develop listening skills, increase awareness of space and movement, improve balance, coordination and rhythm.
Preschool Program Goals
to provide a warm, affectionate atmosphere that lets each child know that she/he is special
to meet the physical, emotional and cultural needs of each child completely
to promote self-confidence and self-worth by allowing choices within limits and building on successful experiences
to provide an accepting environment, where individuals are respected
to encourage self-motivation and the desire to learn
to develop a sense of the needs of others, a respect for each other
to foster a sense of curiosity and creativity
to encourage the desire to discover and explore, to find solutions
to establish a respect for the environment