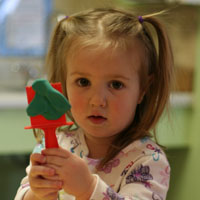 (15 months through 3 years)
The ages of the children in the Toddler Room span from approximately 15 months to 3 years. During this time, children develop quickly and may change a great deal in a month's time. Because of this, the Toddler Program is designed to offer a wide range of activities where children are acquiring or refining certain developmental skills.  For example, upon entering the Toddler Room, a child may be simply stacking 3 blocks. When the same child is preparing to move to the Preschool Room, the creation may be "my house" or a train station. The developmental skills being mastered are categorized as gross motor, fine motor, social/emotional, self-help, language, and cognitive skills.
Toddler Program Goals
to care for toddlers in a warm, loving way to let each child know that she/he is a special person

to meet the physical and emotional needs of each child completely

to instill in each child a feeling of autonomy and a positive self-concept

to establish the foundation of respect for others

to establish the foundation of respect for one's environment

to provide opportunities for language development

to provide ample opportunity for both gross and fine motor skill development

to present a variety of activities that begin to introduce the areas of arts, science, cooking, dramatic play

to encourage social development through parallel and cooperative play.