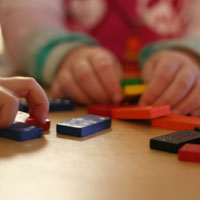 At The Applewood Learning Center, we believe that each child is an individual with his/her own set of emotional, social, cognitive and physical needs. Our programs are designed to facilitate the child's development at his or her own pace in a noncompetitive, supportive atmosphere.
Children learn about their world through play. A child's play is the cornerstone in the foundation of his or her development.  Applewood Learning Center provides an environment which stimulates and encourages a child's natural desire to learn.
Programs for all Ages & Stages
Infants/Toddlers – 6 weeks to 3 years
Nurturing trusting and secure relationships, active engagement, and blossoming exploration. Helping children to develop self-confidence by laying the ground work for language and social skills along with burgeoning independence.
Preschool – 2.9 years to 6 years
Enhancing social and cognitive development through guided discovery and cooperative play while fostering curiosity, creativity and a desire to discover and find solutions.  Encouraging literacy, hands-on numeracy, problem solving, respect for others, artistic expression, and scientific understanding through independent activities and social interaction.
Kindergarten Enrichment – 5 & 6 years
Offering stimulation and excitement with peer discovery. This program operates in conjunction with the morning public Kindergarten program.  Children in this program combine with the Preschool.
Summer School Age – 6 through 13 years
Offering field trips, swim lessons, arts & crafts, and time for children to pursue their own interests in a safe and enriching environment.
Why Mixed – Age Grouping?
There are many varied benefits to having children grouped in mixed ages including continuity of care, role models, leadership skills, social skills, smaller group sizes, fewer transitions, and stronger relationships among children, staff, and families.
The AppleCorps Volunteer program (14 and 15 year olds)
The AppleCorps Volunteer (ACV) program is open to the 14 and 15 year old members of the Applewood community. Like Applewood, AppleCorps is based on our belief in community service and volunteerism. AppleCorps is designed to support young adolescents in becoming strong future leaders and it helps them to become more independent, explore their interest in working with young children, to develop skills and strengthen talents, to take pride in their achievements, and to have a positive impact as a member of the community. ACV's are assigned to one of the classrooms in our program. They are given opportunities to interact with young children, ask questions about child development, and learn what it means to be an early childhood professional.
Click to read an article published in Exchange Magazine about the AppleCorps Program: